Loom on the bike was ruined, so staring a new loom from scratch. I found a wiring diagram online and have redrawn it in Illustrator in colour and am correcting the colours as I build the loom, already found two that didn't match on the diagram.
Feel free to use, but at your own risk and check colours before doing any work. Wiring diagram updated with info on the hidden resistor that can cause so many starting issues.
Having rebuilt the loom I'd recommend only using the wiring diagram to aid tracing wires, as CCM appeared to use different colour wires compared to their own diagram at times.
For double row connectors T + B indicate top and bottom, not surprisingly! I consider top to be the bit of the connector with the release on.
I'm also removing all the bespoke CCM mulitpin connectors and changing them for standard mini connectors. ALl parts and wiring sourced from Kojaycat (awesome for manufacturer specific connectors like Suzuki ECU ones) and Vehicle Wiring Products.
Wiring will also be made to the correct lengths, so there won't be miles of it stuffed behind the headlight, need to make a decision on the speedo, as I'm going to have to wire that in. My plan as genuine CCM, but the only one I could get with a dash was in KMh, as the whole dash was originally missing. An Acewell Speedo had been fitted, but its too large to fit into the factory dash.
My plan was to 3D print a new dash surround, but that got ruined by Brexit as the potential import duty and tax now adds nearly 40% to the price, well done fuckwits of the UK!
I don't really want a speedo cable and drive, so will probably change it for a Daytona DEVA, which I like the look of –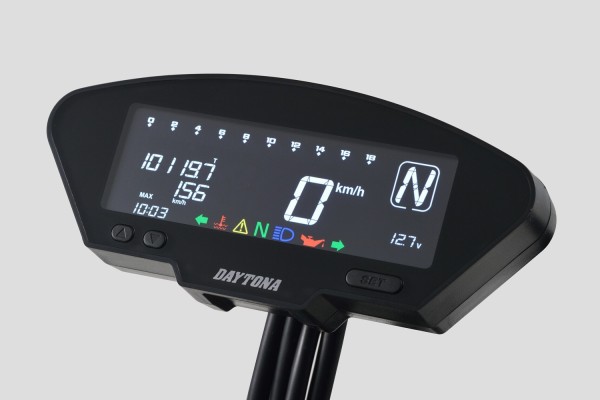 Just need to make sure there's space to fit it behind the headlight, I can then adjust the loom to allow from proper connections.
I'm fitting all the electrical components, so that I can get the wire runs correct.
I've unwrapped the original loom so that I can trace all the cables from one end to another and make my copy.